HGC Mid-Season Brawl - Grand Finals
We are almost done with the playoffs, and we saw some incredible plays! Sadly, given that this is the knockout round, we've had to say goodbye to some great teams. HeroesHearth Esports and Method both fought valiantly on Saturday, but at the end of the day both teams were bested by Ballistic and Fnatic respectively. In the upper bracket, there was no real contest. Both Korean teams were wrecking things and came out on top with a 3-0. However, if you are only able to catch a single VOD from that round of matches, be sure to catch up on Method v Fantic. It was a nailbiter to the very end.
Sunday started off with NA's last hope, Tempo Storm, facing off against Ballistix. While Tempo Storm bested Ballistix easily during the group stage, it took them a bit more effort this time. Ballistix started out hard with 2-0, but Tempo Storm came back with 3 wins in a row to snag the series.
We also had to say goodbye to another EU team before the end of Sunday, one way or another. Fnatic appeared to have pulled themselves togethers in the past few games, while Dignitas still needed to find their sweet spot. Fnatic started out well indeed, but then Team Dignitas finally seemed to get into their groove and took the series 3-1.
In the upper bracket, Gen.G and Tempest, geared up for what was predicted to be a powder keg of a series. But that was not to be. Gen.G absolutely obliterated Tempest in what can only be described as a bloodbath. Tempest fought valiantly but never stood a chance against Rich and his team. Gen.G has carved their way through this entire tournament undefeated, sitting at an incredible 16-0 record!
Dignitas then welcomed Tempo Storm in the last lower bracket game of the day in the last showdown between NA and EU for the Mid-Season Brawl. And Tempo Storm got rolled, never being able to take a game off of Dignitas.
So with three teams left, we have two games remaining for Monday. First we have the Lower Bracket Finals, with Team Dignitas and Tempest facing off to determine who gets the last spot in the Grand Finals. And then the winner gets to face Gen.G and a steep challenge in taking even one game off of the Korean all-stars team.
So in short, here's how it's looking before Monday's last few games: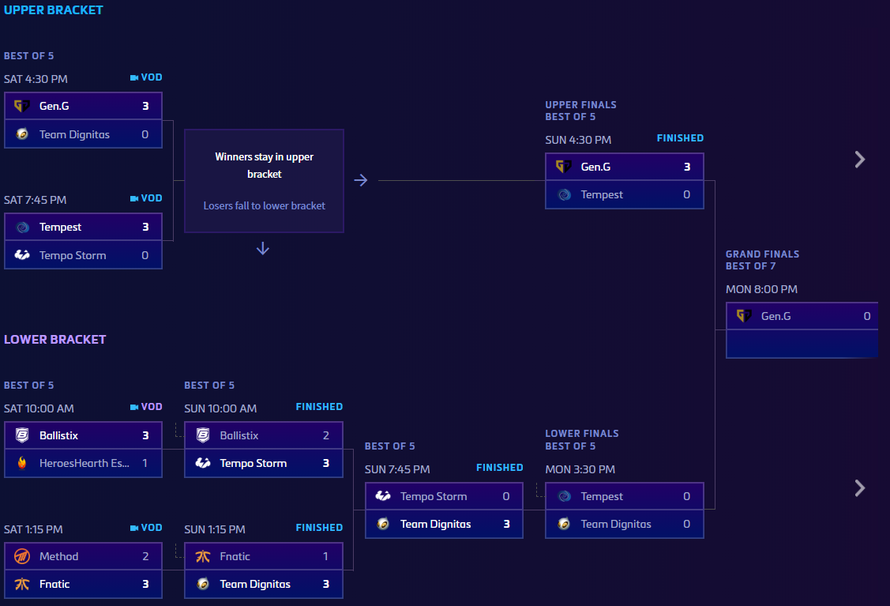 Monday, June 18
Start Time:
3:30 PM CEST / 6:30 AM PDT
Best of 5 matches
(Lower Finals) Tempest - KR vs. Team Dignitas - EU
Start Time:
8:00 PM CEST / 11:00 AM PDT
Best of 7 matches
(Grand Finals) Gen.G - KR vs. (Winner of Lower Finals)
Want to check out the entire schedule? Take a look at the
HGC Mid-Season Brawl Survival Guide
.
Talent and Casters
Alternative Language Streams
Official HGC Website:
https://esports.heroesofthestorm.com/en-us/