Put on your green and gold and get those #wingsout! It's Stage 4 Week 3 of the Overwatch League and everything's coming up Valiant. Houston and Seoul end their week 2-0 and the Dallas Fuel pull off a pretty convincing upset against an a team you wouldn't expect.
Week 3 Day 1

Match of the Day
Los Angeles Gladiators vs. Los Angeles Valiant
Are you #shieldsup or #wingsout? No matter what side of the cross-town rivalry you fall on, you can always count on the Battle for LA to be some of the best Overwatch to watch.
After tying up the first map Blizzard World 3-3, the Gladiators needed to only make 33% progress on the point to win the map. Not hard to do when they have a little over 90 seconds to do it and a team composition that's fast, beefy, and capable of putting out enough damage to at least displace, if not outright kill, the opposing team. The map looked pretty wrapped up for the Gladiators.
Enter Soon.
His Widowmaker was the great equalizer, exploding heads and exposing locations, forcing the Gladiators to regroup, wasting their precious time, and forcing the match to a draw. Soon's sniping saved the Valiant not only on Blizzard World, but on all the maps that followed.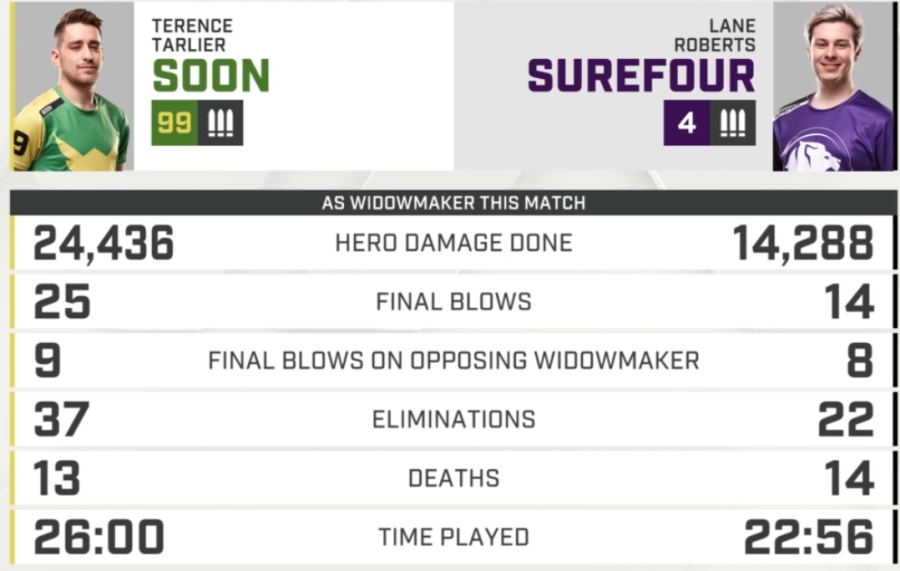 The Gladiators were never able to win a single map and the Valiant win the Battle for LA 3-0.
Week 3 Day 2

Match of the Day
London Spitfire vs. Boston Uprising
After a roster shakeup, Birdring's return, and a two game winning streak, London was back on track and ready to reclaim a little bit of that lost ground (and maybe hold on to their gradually slipping season playoff spot). On the other side, Boston's was still looking for that first Stage 4 win. London won Blizzard World and Boston forced a tie on Horizon: Lunar Colony, setting the score at 1-0 at the half. Boston needed a win on Oasis to tie up the score and remain in the game. They got that win, just not on Oasis.
Boston's rally on Dorado came too little, too late to keep their hopes for a win alive. However, despite how poorly both these teams have performed, they're still extremely close in the overall rankings. This match was in London's favor this time, but if these teams keep playing how they played in this match, the next time they meet the outcome could swing the other way.
Week 3 Day 3

Match of the Day
Shanghai Dragons vs. Houston Outlaws
The Shanghai Dragons lost this match, but this is yet another game where the score does no justice to the quality of Overwatch displayed here.
This game looked like an easy roll on King's Row, so much so that I debated if it was worth my time to watch the rest. I'm glad I did.
On Hanamura both teams tie up the score 2-2, sending the teams to their time banks to get as far as possible. Shanghai only had a minute. Houston had six. In one minute Shanghai was able to capture an extra point, then they held Houston for six whole minutes to prevent Houston from taking a second point and winning the map. The Dragons forced a draw after an impressive, impossible seeming six minute old. After that, the Dragons dropped Lijiang Tower and Watchpoint: Gibraltar in the very close but not-quite-there style the Dragons are famous for.
The entire team worked admirably together but there was one player on the Dragons that really kept this loss from being a slaughter.
Diya's performance was so good, so undeniably superior, that the caster desk awarded him player of the match, the first given to a player on the losing team. And though the Dragons lost, at the end of the day, it's still Overwatch — a game we all love and love playing with our friends.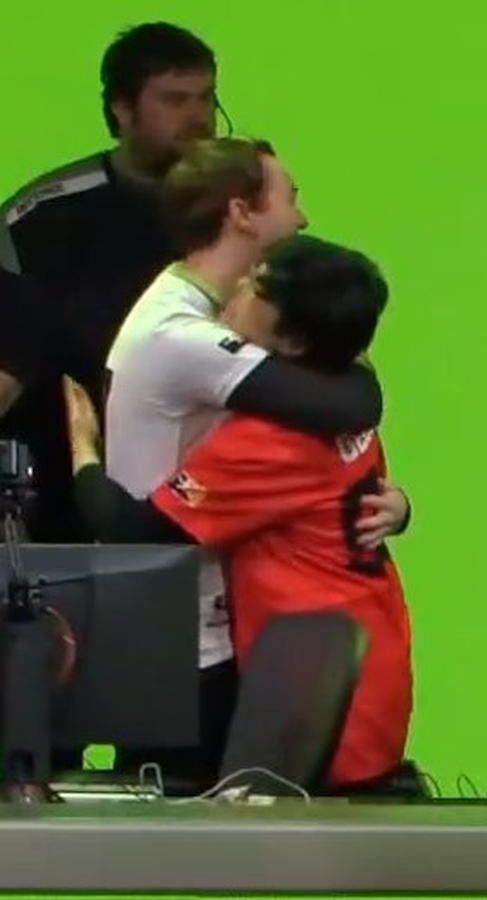 Caption: Geguri and Muma congratulating each other on a match well played.
GGWP.
Week 3 Day 4

Match of the Day
Dallas Fuel vs. London Spitfire
and
Los Angeles Valiant vs. New York Excelsior
I don't want to call the match between Dallas and London an upset. Dallas has taken to the new meta swimmingly and London hasn't been right since Stage 2. This shouldn't be an upset...but it is, especially since London was showing signs of life by beating the Boston Uprising earlier in the week and Seoul and the Shock the week before. So yeah, this is an upset.
Say it with me now: stop running dive comp into Brigitte. A lesson London just could not take to heart.
Rinse and repeat this encounter across three out of four maps and you get the idea of how Dallas dismantled London.
I named two matches of the day because I had to. The #1 Excelsior went up against the #2 Valiant with no clear idea of who was going to win. There were a couple of ways it could have played out:
A)
New York could decide to take it easy, giving the Valiant enough space (not that they needed it, they are #1 in the stage, #1 in their division and #2 overall for a reason) to catch New York unawares for a win.
B)
The Valiant could go full wings out and display the kind of prowess that won them every match this stage so far.
C)
OR New York could go full aggro and hang onto their winning streak attempting to complete the perfect 10-0 stage the way Boston did before.
So what happened?
Little bit of column A.
Little bit of column B.
Not so much of column C.

I'm glad that we've finally found this stage's answer to the NYXL. Stage 1 was Philadelphia, Stage 2 London, Stage 3 Boston. But if you look at those teams since their fateful encounter with the Excelsior, a disturbing pattern emerges….they're all tanked right now. Beating the NYXL curses the winning team and it's a matter of time before that curse manifests against the Valiant. Or, perhaps in the Stage 4 playoffs, the Valiant will finally be the ones to break the curse and supplant New York as Overwatch's top team.
Final Thoughts
The Shock, the Outlaws, and the Fuel are all very close in the standings, all gunning for that fourth spot that will guarantee them a place in the Stage 4 playoffs. And for all three teams, their matches only get harder from here. Next week, Houston faces off against stage leaders the Valiant, San Francisco tangles with New York, and Dallas showdowns with cross-state rivals the Outlaws. The coming weeks will prove if the current success of the Shock and the Fuel were only quirks aided by a light schedule. For the Outlaws, it will determine if they are back in fighting form or still on that post-patch backslide. Stage 4 is almost over, and with it, the end of the Overwatch League regular season. While New York is a guaranteed lock for a playoffs appearance, it's still very much in the air for everyone else. These last two weeks will be absolutely critical to who stays in, who gets in, or who falls out. Stay tuned.
Ash, the first of her name, keeper of Zenyatta lore, protector of Hanzo mains and Mother of Shanghai Dragons, is a content writer for the Overwatch section of MMO-C and Gamepedia.