The semifinal games are over, and it all ended with an outcome no one predicted. If you're still bewildered by last week's events, that's okay. Shock, or depending on who you were rooting for, grief, takes a while to process. No matter who you were rooting for, no one can argue that the big winner in these games was hubris — and chaos.
#1 New York Excelsior vs. #6 Philadelphia Fusion

This week marked the NYXL's return to the main stage. After winning their bye into the semifinals by snagging the #1 spot in the Atlantic Division, the Excelsior haven't played a game in a month. But if you believe the analysts and take the team's performance in Stage 4 as proof, the NYXL hasn't really played a game since the end of Stage 3. Once that top playoff spot was secured, Saebyeolbe, Mano, Meko, Jjonak and the rest have been in coast mode. They are 34 - 6 with half of those losses suffered in Stage 4 alone. Before Stage 4, the NYXL was not a team that took losing lightly, and when they did, they nearly always got their revenge.
So when Philadelphia beat them 3-1 in Game 1 of their semifinal series, it was assumed this was part of that trend. Recall, Philadelphia has backed New York into a corner before, two stages and two metas ago in the Stage 2 Finals. Back then, Philadelphia was up two games to zero before New York reverse swept them to win the Stage Championship. Now in the semifinals it looked like history was ready to repeat itself.
It had to right? This is New York we're talking about. The Grand Finals are in Brooklyn, a decision no doubt made because Commissioner Nanzer and the powers that be thought it'd be a good ($$) idea to hold the finals in a city with a guaranteed hometown crowd. Yet those hopes were thwarted by a smart, agile, and scrappy Philadelphia team.
While I have no doubt New York studied up on their East Coast rivals, the Fusion studied harder. They knew their opponents weaknesses lay in their supports and that their own strengths rested on the shoulders of Carpe and Eqo.
With Carpe's opening headshot on Ark, Philadelphia set the pace of these matchups. They forced the Excelsior to make decisions to counter their playstyle, often when it was too late to affect real change. On Dorado, the last map of the game, New York had five minutes to take the payload from Objective B to map completion. If they made it to the end, New York would have won the map and the series, forcing a final Game 3. Five minutes to make it 85 meters — but Philadelphia's defense consumed all of that time, forcing New York to change strats and compositions, eating up New York's ultimate charge, their time, and most importantly their cohesion — the trait that made them the best team of the Overwatch League. Philadelphia outplayed their opponents, tilting New York right out of the Playoffs.
#2 Los Angeles Valiant vs. #5 London Spitfire

If the New York Excelsior throttled back from their full potential in Stage 3 and beyond, the London Spitfire have been doing it for the entire season. This match came down to individual brilliance, specifically in the Spitfire support line. Nus and Bdosin didn't quite hard carry their team the way Jjonak has been known to do, but these two had the kind of performances that win games. Compare Bdosin to his Valiant counterpart Kariv.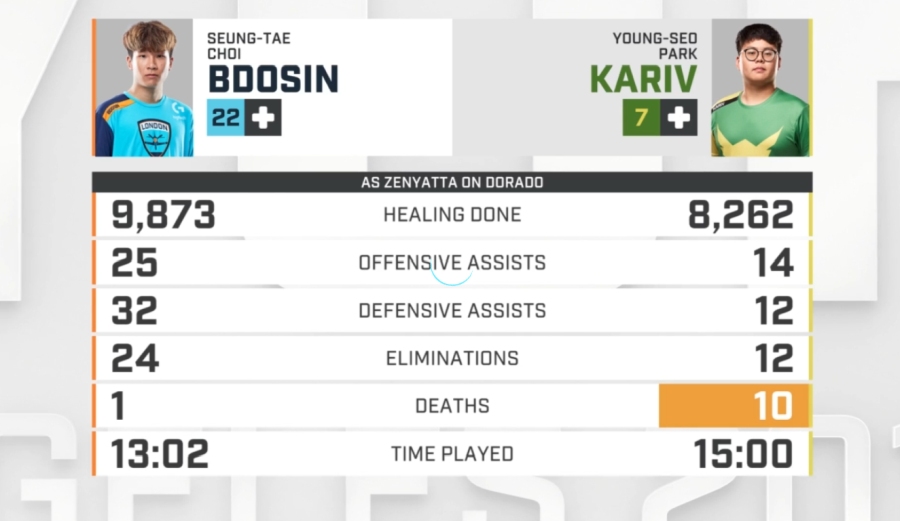 Then, earlier in the week Nus on Ana prevented the Valiant from picking up an easy win on Hanamura. Los Angeles had 5 minutes (sound familiar?) to take a single tick on Objective B to wrap up the map and tie the game. Nus traded his Mercy for Ana, a heroine we don't see that often in favor of the higher healing outputs and mobility of Moira, Mercy, Lucio, and Zenyatta. Nus's Ana halted the Valiant offense in its tracks, forcing a Draw.
Aside from Agilities's infuriating compulsion for diving Profit's Brigitte, the Valiant did everything correctly — responding quickly with composition changes, shutting down ultimates with D.Va's Defense Matrix — and still lost. Their only victory was a convincing shut out on King's Row in Game 1.
Final Thoughts
Though it will take a few more seasons of the Overwatch League to prove it, I believe the bye week killed New York and LA. Think about it. While they likely practiced and scrimmaged against others, neither team got to play on the new patch against a real opponent. London and Philadelphia had that experience and it gave them the opportunity to tweak and adjust their strategies as necessary, since they've seen what opponents can do with it live in real time. Think of it like testing a video game for bugs internally versus finding all the bugs that manifest on launch day. You can only prepare so much before you just have to do it live.
Of course there are other factors contributing to the two best on paper teams not making it to the finals. SoOn didn't perform as we've come to expect from him while Carpe and Eqo did. Bdosin outfought and out-healed Kariv while ArK just couldn't stay alive. And regardless of the seeming injustice of a Grand Finals that lacks the presence of the Excelsior or the Valiant, take heart that the two best teams in the playoffs are playing in the finals. The ability of Philadelphia and London cannot be understated. It wasn't luck, it wasn't abysmal opponent performance (sorry Gladiators), but sheer skill. London and Philadelphia played quick, smart, and a little crazy (Reaper and Soldier 76 on Oasis?) They earned this, and both have an equal chance to win it all. In fact, with the caster curse as strong as it is, it would not only be impossible to predict a winner but downright irresponsible.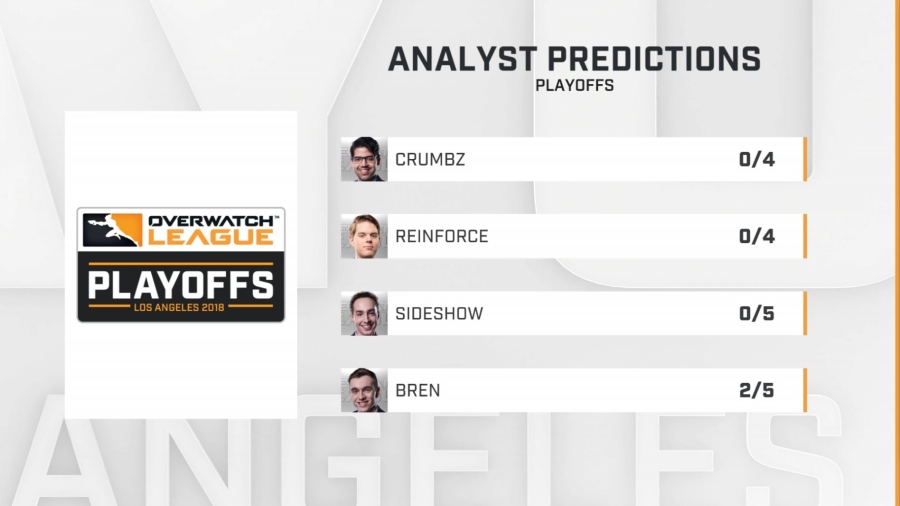 Even if you choose a team based purely on who has the better story, you'd still have a difficult time. Philadelphia was dismissed as a team of nobodies with nothing going for them while London was a team of fallen greats on the path to reclaim lost glory. You're best bet is to ditch the idea of choosing the winner at all and just tune in to the Grand Finals to see how it all plays out.
Ash, the first of her name, keeper of Zenyatta lore, protector of Hanzo mains and Mother of Shanghai Dragons, is a content writer for the Overwatch section of MMO-C and Gamepedia.